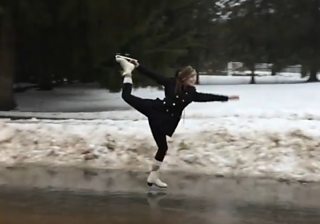 Roads turn into ice rinks in Canada
People living in Ontario in Canada are making the most of the freezing weather there by ice skating on their own streets.
Icy weather has turned roads into makeshift ice rinks, making it unsafe to drive or walk on some roads without slipping.
Some residents have been posting videos of themselves having fun skating on their abandoned streets.
There have been lots of car accidents on the motorways in the area and Toronto airport reported slippery conditions there.
Although this looks fun please don't attempt this yourself.
Videos courtesy of Meg Bethune and James Bradburn.