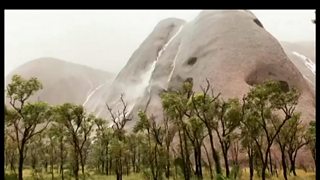 Australian national park turned into waterfalls
Heavy rain has turned an Australian national park into waterfalls.
Uluru, which is also known as Ayers Rock, is a huge sandstone rock formation in central Australia.
Waterfalls appeared all over the landmark, causing the famous national park to be shut temporarily.
It hardly ever rains in that area and weather experts have described the freak storm as something that happens only once in 50 years.
People living in towns nearby to the national park, were forced to leave their homes and seek shelter because of the flash floods.