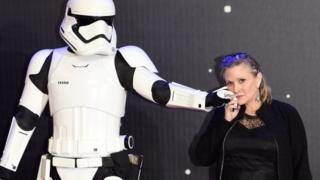 EPA
Carrie Fisher, who was famous for playing Princess Leia in the Star Wars films, has died.
She was one of Hollywood's best loved actresses, after portraying the galactic heroine who was known for being smart, feisty, and brave.
The American star first played the role in 1977, nearly 40 years ago, in the very first Star Wars film - "Episode IV -- A New Hope".
Since then, Star Wars has become one of the most successful film franchises of all time with eight films enjoyed by millions of fans around the world.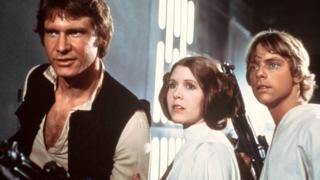 20th Century Fox via AP
Most recently Carrie Fisher starred in "The Force Awakens" which was released in 2015.
You might even have spotted her in "Rogue One" which premiered this month, although her image had to be computer generated, because the character of Leia was very young in that film.
As well as acting, Carrie Fisher was famous for raising awareness about mental health, by speaking about her own problems and advising people on how to get help.
Actors and fans around the world have been paying tribute to the star.
Star Wars' creator George Lucas said: "She was our great and powerful princess. She will be missed by all."