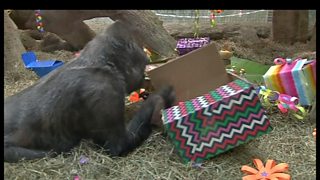 America's oldest gorilla celebrates birthday
Colo, the oldest gorilla in the US, enjoyed cake and decorations to celebrate turning 60 in a zoo in Columbus, Ohio.
Colo was the first gorilla in the world to be born in a zoo, back in 1956.
She's now a great-great grandmother and has already lived for 20 years longer than most captive gorillas.
Hundreds of people came to Columbus Zoo and Aquarium to sing "Happy Birthday" and watch Colo enjoy her cake.