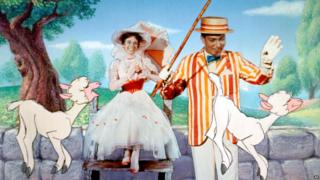 AP
Dick Van Dyke, the actor who starred in the original Mary Poppins film, has said he is going to be in the new sequel.
The new film Mary Poppins Returns will star Emily Blunt in the lead role, and is due to be released in 2018.
Dick Van Dyke played chimney sweep Bert in the 1964 original movie.
Mary Poppins Returns will tell the story of Jane and Michael Banks, who were the children that the nanny helped in the original film.
In the new film they have grown up and had their own children - who will be helped by Mary Poppins.