Fifa, the body in charge of world football, has fined England, Scotland, Wales and Northern Ireland for displaying poppies during World Cup qualifiers around Armistice Day.
The countries were involved in a row with Fifa because they wanted to wear the symbol of the poppy during matches.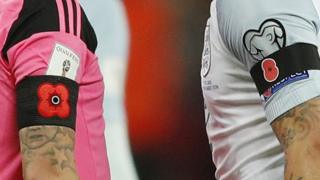 Getty Images
The poppy is a symbol that is often worn around Armistice Day on 11 November.
Armistice Day is a day every year when the United Kingdom, and other countries, remember those who have lost their lives in war.
England, Scotland, Wales and Northern Ireland wanted to wear armbands with poppies on, or have poppy displays on the field or in the stands.
But Fifa said that nations are not allowed to display any political, religious or commercial messages.
However, the UK's football teams ignored Fifa.
England and Scotland players wore armbands featuring the poppy when they met at Wembley on 11 November.
Wales and Northern Ireland's games had poppy displays on the pitch or in the stands to mark the event.
Fifa have fined all four countries for breaking the rules.
England have been fined £35,311, Scotland and Wales £15,694 and Northern Ireland £11,770.