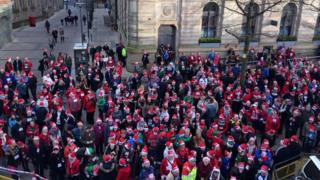 Thousands of people gathered in Londonderry in Northern Ireland yesterday to try to break the world record for the most Christmas jumpers in one place.
People turned up in festive woollies, reindeer ears and Santa hats for the attempt, which is raising money for charity.
Organisers will have to wait a bit longer before they find out if they've broken the record.
This currently stands at 3,473 people and is held by the American city of Kansas.