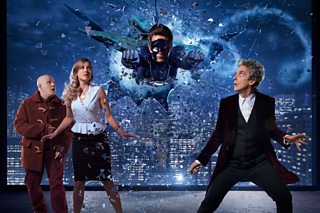 Doctor Who's 'spectacular' superhero special
Christmas is nearly upon us and with it comes turkey, maybe some sprouts, presents... and of course the Doctor Who Christmas special!
This year's Christmas special looks to be a thrill ride, with the Doctor heading to New York City to stop a band of aliens' evil plot which puts Earth in serious danger.
And he's not the only one trying to save the world, he's joined by The Ghost, a superhero who got his powers from the Doctor himself many years before they meet again.
Ayshah met up with the Doctor, or Peter Capaldi as he is known in real life, to get the inside scoop on this year's episode.
Check out the video.