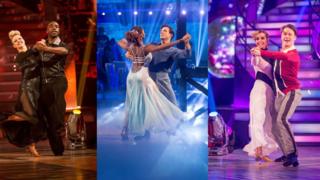 The moment is upon us! It's the Strictly Come Dancing final on Saturday and for the remaining three celebs the glitterball trophy is within reach.
Will it be sports presenter Ore Oduba, actor Danny Mac, or singer/TV presenter Louise Redknapp?
Each of the Strictly stars will perform THREE dances on Saturday night - one of which will be their favourite dance from the series.
So we want to know who you think should win this year's prize, and why?

Thanks for your comments, this page is now closed.
Your comments
If we're going for consistency and the best dancer then Danny, but if we're going for who I've loved watching the most it's Louise!
Gerty, 7, Belfast
I think Ore Oduba should win because he is great at dancing, but he hasn't had any previous dance experience.
Emily, Kent