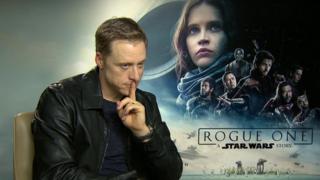 Alan Tudyk: Rogue One is 'Episode 3.5'
Alan Tudyk, who plays K-2SO in the new Star Wars movie, Rogue One, has been answering super-fan Miriam's questions.
Among them are where Rogue One sits within the sci-fi movie series.
As well as voicing the new droid, Alan is also famous for giving the voice to a whole heap of other animated characters.
Rogue One was released in cinemas on Thursday 15 December, rated 12A. That means if you are under 12 you must be accompanied by an adult.
Have a watch and find out more about Alan's droid, and how difficult it was to run in sand...