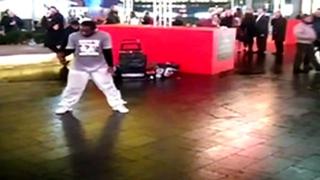 Man breakdances to BBC News theme music
You may have seen people who perform on the street in your local town or city.
Sometimes they might have a guitar and a microphone, and of course there's people dancing.
They might be busting some moves to the latest Rihanna or Little Mix, but this particular street performer has gone for a slightly less well-known song.
He chose the theme tune from the BBC News.
One thing is for sure, it is certainly an original choice.