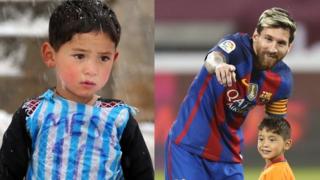 Young Afghan fan meets his hero Messi
A young Afghan boy's dream has come true after he got to chance to meet his hero Lionel Messi when he was picked to be a mascot in a friendly game between Barcelona and Al-Ahli in Qatar.
Murtaza Ahmady, who is now six made the headlines back in February when he was pictured wearing a Lionel Messi shirt which he'd made himself out of a bin bag.
Messi heard about it and arranged through UNICEF for a signed shirt to be sent to him.
Murtaza was invited to walk onto the pitch with his hero, took part in the team photograph and placed the ball on the centre spot before kick-off. He was so pleased to meet his hero that he didn't want to leave his side.