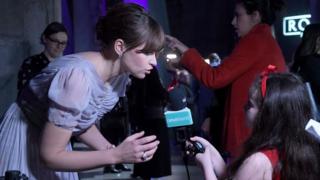 'I spent a LOT of time learning martial arts'
Last night was the premiere of the new Star Wars movie Rogue One, Newsround sent super-fan Miriam down to the red carpet to meet the stars of the movie and to find out a little more about the film.
Actors including Felicity Jones, Forest Whitaker and Alan Tudyk were all there for the star-studded event.
The film is set between episodes three and four of the Star Wars saga and tells the tale of how the rebels managed to steal the Death Star plans.
Have a watch to see how Miriam got on.