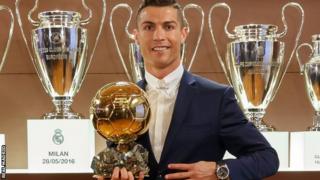 Real Madrid
Real Madrid forward Cristiano Ronaldo has won the world famous Ballon d'Or footballer award for a fourth time.
Cristiano is now just one award behind Barcelona's Lionel Messi, who took the Ballon for the fifth time last year.
Atletico Madrid's Antoine Griezmann finished third.
Ronaldo helped Real Madrid to win the Champions League last season and scored three goals for Portugal who went on to win Euro 2016.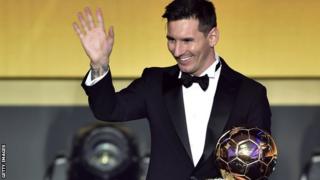 Getty Images
The 31-year-old has won the Ballon d'Or in 2008, 2013, 2014 and 2016.
"I never thought in my mind that I would win the Golden Ball four times. I am pleased. I feel so proud and happy," said Ronaldo.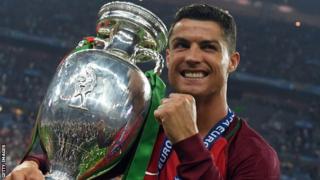 Getty Images