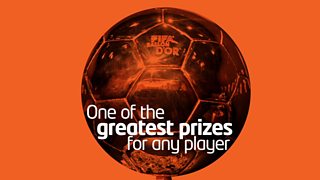 All you need to know about Ballon d'Or
The Ballon d'Or award is fast approaching - will Messi take it again? Maybe it'll be Ronaldo - or even a British star?
It's a massive award in the football world and something every player would love to get their hands on.
It hasn't been won by an British player since Michael Owen picked it up 2001!
But that doesn't mean we don't have a chance. Jamie Vardy, for example, has had a good season so who knows what will happen.
Ricky has been finding out a little more about the Ballon d'Or and some changes to this year's competition.
Check out the video to get the lowdown.