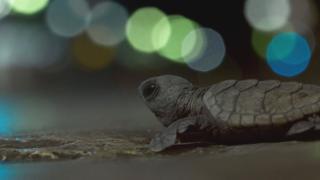 Those of you who watched the Planet Earth II finale on Sunday night will have seen the baby turtles in trouble.
The bright city lights confused the hatchlings, sending them the wrong way - towards the dangers of town, instead of the sea.
But there's no need to worry, as all the crawling little turtles featured in the episode were saved!
It's down to the work of the Barbados Sea Turtle project, which rescues thousands of the creatures.
Staff from the project helped the Planet Earth II crew film the sea turtles as they emerged from their eggs buried in the sand.
The team shot the reptiles' struggle up the beach, to show the challenges the reptiles face.
When the filming finished, the conservationists stepped in to collect the turtles and took them to the sea, where they can live the rest of their lives.