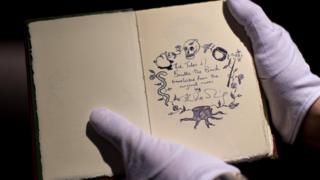 Sotheby's
A rare and valuable handwritten copy of the JK Rowling book, The Tales of Beedle the Bard, has been sold for £368,750 to an unnamed telephone bidder at the famous auction house Sotheby's.
It's so rare in fact that there were only seven ever made.
JK Rowling wrote the books to give as a gift to the most important people in her life during the time when she wrote Harry Potter.
The cover is made of brown Moroccan leather and it's decorated with silver ornaments and seven unique stones.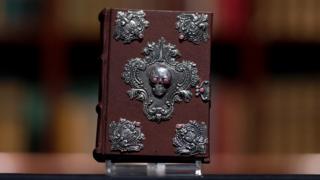 Sotheby's
In 2007, a seventh copy of the book, which was made specially to be sold, was auctioned for a record £1.95 million. All of the money went to JK Rowling's charity.
The Tales of Beedle the Bard is a book of five wizarding fairytales. In the Harry Potter series, the book is given to Hermione Granger by Dumbledore in the Deathly Hallows.