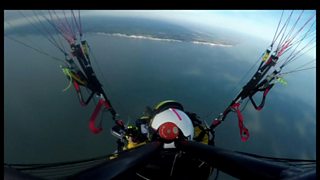 'Human swan' set for final flight
A woman who's been flying with swans for their annual 7,000km (about 4,500 miles) migration journey, from Russia to the UK, is due to complete her challenge on Monday.
Sacha Dench is passionate about animals and is using a powered paraglider to be like a "human swan".
She started the journey in Russia in September and, bit by bit, she reached the UK last week.
On Monday, Sacha will fly across Kent, take a boat trip through London - as she is not allowed to fly over the capital city - before flying up the Thames Valley to Slimbridge.
Slimbridge is where the swans come every winter and that will be the last leg of Sacha's journey.