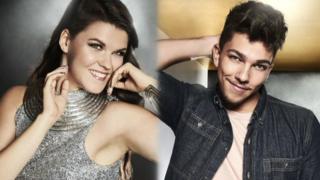 PA
It's the live final of The X Factor tonight and we asked who you think is going to win it.
There's just two acts left - Saara Aalto and Matt Terry, after 5 After Midnight were eliminated on Saturday night.
Saara, who's from Helsinki in Finland, could become the first non-UK winner of the show if she wins tonight.
Matt, who is from Bromley in London, sang with his mentor Nicole Scherzinger last night.

Your comments
I would really like Saara alto to win because she really improved more than Matt Terry
Emily, 8, Cheltham
I love Saara and want her to win as she has the most amazing voice ever!
Selina, 11, London
I want Saara Aalto to win because I think Matt will still have a singing career if he comes second and the runner up often has a more successful career than the winner and I would like to see Matt go on and have a successful career, rather than just a couple of years of success like the winners.
Elliot, 12, High Wycombe
I think Matt will win because all the girls adore him and he's got a good voice.
Mia, 10, England
I think Matt Terry should win as he had a strong start at the beginning and is a great performer even if Saraa Aalto is better at singing.
Madison, 13, Hampshire
I think Matt should definitely win the X factor because he has got an amazing voice and I loved his performance singing writings on the wall! Good luck!
Paige, 10, North Yorkshire
I want Matt Terry to win. If he wins I will be so happy. Matt terry has a great voice.
Caitlin, 9, Wales
I want Matt to win. Matt has been working hard from the very start so has Saara. But Saara has already won the X Factor in Finland. Matt should be given a chance at fame! Matt we are all backing you.
Naiza, 12, Leicester
I want Matt Terry to win because he is a really good singer and although Saara Alto is also really good she has already won the X Factor in Finland
Octavia, 12, Suffolk
I love both of the finalists, they are amazing. But I think Matt will become the winner.
Lujain, 11, London
Matt Terry is going to win the grand final.
Eyad, 16, Tunisia
I think Saara should win because she is much better than Matt. She's got a much stronger voice than Matt.
Romilly, 13
I think Saara will win, because she's a really good singer. Matt is good but not as good as Saara.
Oliwia, 9, Hemel Hempstead
I think Saara Aalto should win because she is from Finland but sings in fluent English.
Sam, 10, Hull
I want Matt Terry to win please.
Scott, 10, Christchurch
Thank you for your comments. This page is now closed.