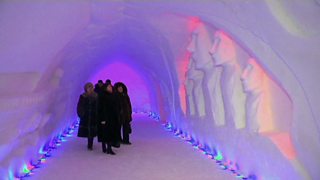 Artists create Russian ice village
Artists have created an amazing snow village in the Russian town on Kirovsk.
It contains exhibition halls shaped like igloos that have sculptures engraved on the walls.
The ice art includes a bear playing a Russian instrument called a balalaika and Russian cosmonauts.
The creators won't have to worry about the village melting, as temperatures are currently below freezing in the snowy town.
The snow village opens officially on 25 December.