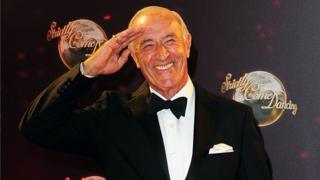 PA
It's the semi-finals of Strictly Come Dancing this weekend and as the show nears the end, we're asking who you think should replace Len Goodman on the show?
The head judge announced in July that this would be his last year on the programme.
Len, who is 72, has been on the judging panel since the programme started 12 years ago.
So far, the BBC have not made any announcement about who will replace him.

Your comments
I think Anton Du Beke will replace Len Goodman but I don't think he will be head judge.
Charlotte, 8, Todmorden
Darcey Bussell
Emily, 7, Solihull
I think Anton Du Beke or Ian Waite should replace him because Anton has been on Strictly for ages and he is the most experienced and best dancer, and Ian is an amazing dancer and has been on Strictly before.
Elena
I think Anton Du Beke should take over because he is experienced and older than the other dancers.
Tean, 10, Cornwall
I think who ever wins the competition this year should become the new head judge.
Emma-Louise, 11, Bristol
I think Bruno Tonioli should replace Len.
Charlotte, 10, Manchester
I think Anton du Beke should replace Len Goodman because he is a professional dancer. He is also very good at dancing.
Sarah, 9, Belfast
I think Darcey should be the new head judge, because she is calm and fair.
Rachel, Chester
I think it should be Erin Boag or Anton!
Erin, Norfolk
I think Ian Waite should replace len because he is sensible, strict but nice.
Toby, 9, Gloucestershire
I think that Anton should be the next judge because he is a great dancer and has a lot of experience on the show.
Freya, 11, Ramsgate
Len Goodman because I don't think strictly would be the same.
Elizabeth, 12, Co Durham
It should be Anton du Beke because he's experienced and and he might be retiring I want Danny Mac to win.
Will, 10, London Colney
I think that Darcey should be lead judge because she is fair.
Eleanor, 9, England
I think Karen Hardy should become head judge.
Fleur, 8, Staines
Thank you for your comments. This chat page is now closed.