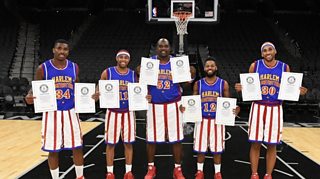 Basketball shot from 177 metres up
Buckets Blakes from the US basketball team the Harlem Globetrotters celebrated World Trick Shot Day in style.
He shot an incredible hoop from 177 metres above the net.
The player climbed to the top of the Tower of the Americas in San Antonio, in Texas.
Not something you should ever attempt to do at home.
Take a look at the super trick shot.