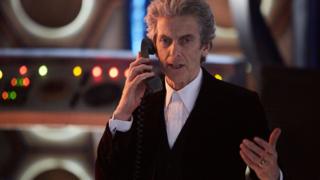 Newsround is chatting to Doctor Who star Peter Capaldi this week and we want to know what questions you'd like us to ask him!
It's almost time for the special Christmas episode where the Doctor will join forces with a masked superhero for an epic adventure in New York.
Do you have a question about the new episode? Or do you want to find out what's in store for the Doctor next year?
Perhaps you're keen to ask Peter what's it's like being the Doctor?
Or maybe you want to find out what he's looking forward to over Christmas and New Year?
Whatever your question, be sure to send it in! We'll try and ask him as many of them as we can.

This chat page is now closed, thank you for your questions.
You must ask your parent, teacher or guardian for permission before you send us a comment or a photo.
We may show your comment on our website or in our TV bulletins. We'll show your first name and where you're from - but we won't use your details for anything else.