The giant aircraft carrier ship, HMS Illustrious, has set sail for the very last time today.
It's being taken apart and recycled at a plant in Turkey after 32 years of work and sailing 900,000 miles during that time.
The ship was used as a landing platform for fighter jets, but it also helped in disaster zones.
Its final voyage left from Portsmouth this morning.
Crowds of people lined the shoreline to watch the ship sailing off.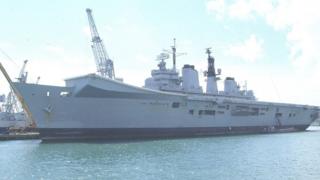 Facts about HMS Illustrious
- Weighs 22,000 tonnes - that's 1,760 double decker buses, 64 Boeing 747 jumbo jets or 22,000 polar bears!
- Nicknamed "Lusty"
- Has 685 crew
- Is the fifth warship and second aircraft carrier to be named Illustrious
- Most recently took part in operations in Sierra Leone and an aid mission delivery emergency supplies to the Philippines after Typhoon Haiyan in 2013