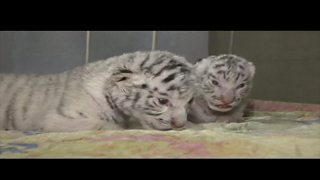 Trio of white tiger cubs born at Crimea zoo
These brothers are rare White Bengal Tigers born in Yalta Zoo in Crimea.
Sadly, their mother rejected the furry little fellas, but zoo keepers stepped in to feed them milk and they are now putting on weight.
There are three cubs - called Athos, Porthos and Aramais after The Three Musketeeers.
Check out the video.