A goat has gone wild at a shop in County Antrim, Ireland.
The horned animal was reported to have jumped onto cars after trying to enter the Eurospar store in Carrickfergus.
And his rampage didn't stop there, he even head-butted one of the shops regulars, called Billy.
Luckily Billy escaped injury and was pulled into the shop for safety by the shop's manager.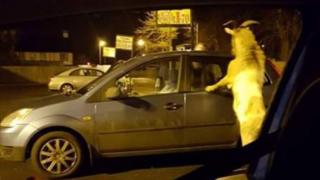 Not your normal day at work for sure.
And not content with the damage already done, the gallivanting goat even had a go at the flowers in the shop car park.
The manager told reporters: "It was into the baskets eating all the plants and running round the car park. I thought: 'You've got to be kidding me!'"
Surely he meant 'Goat to be kidding me'...
The goat's reign of terror ended when a man, believed to be the goat's owner, arrived at the shop and took the goat away.