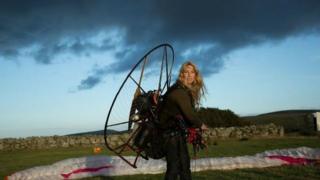 Angharad Barlow/WWT
Sacha Dench is following swans as they fly their annual 7,000km (4,500 miles) journey, from Russia to the UK.
But she's not using tracking devices, or a plane, or even a drone.
Sacha is passionate about animals and is flying herself, like a swan almost, on a powered paraglider.
She is doing the journey from Russia bit by bit and now she's made in to the UK.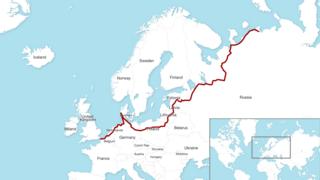 On Monday she left the Aeroclub du Boulonnais, France, at 11:00 GMT and landed to the north of Dover at 12:38.
Sacha will eventually make her way to Slimbridge where the swans come every winter - she is expected to arrive there by 12 December.
After Monday's flight she plans to fly across Kent, take a boat trip through London - as she is not allowed to fly over the capital city- before flying up the Thames Valley to Slimbridge.
She is doing the trip to learn more about Bewick's swans.
Bewick's swan

PA
The swans arrive in the UK in mid-October after breeding in Siberia. They stay for winter in the UK's comparatively warm climate, before leaving again in March.
They are found mainly in eastern England, around the Severn estuary and in Lancashire. The Ouse and Nene Washes in Cambridgeshire, Martin Mere in Lancashire and Slimbridge in Gloucestershire are great places to spot a Bewick's swan.