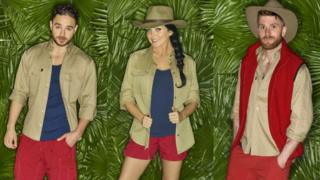 ITV
Gogglebox star Scarlett Moffatt has been crowned queen of the jungle in I'm A Celebrity... Get Me Out Of Here!
Scarlett found herself in the final three with Emmerdale actor Adam Thomas and comedian Joel Dommett.
Adam finished third and Ant and Dec then announced that Scarlett had beaten Joel to the crown.
"I've never felt so happy. I just feel like I'm not going to be scared of anything any more" Scarlett said.

I am really happy that she won as she is very brave and caring.
Hope, 16, Perth and Kinross
I am so happy for Scarlett, she definitely deserves to win this because she had a go at all the trials and makes everyone laugh. It was a tight contest though!
Livvy, 11, Farnham
I think Scarlett deserved it as she took on lots of trials, but they were all really good and all overcame their fears.
Jessica, 12, Harpenden
I'm really happy Scarlett won as she was my favourite, she had tried so hard and deserved it .
Lucy, 11, Bonnyrigg
This chat page is now closed. Thank you for your comments
You must ask your parent, teacher or guardian for permission before you send us a comment.
We may show your comment on our website or in our TV bulletins. We'll show your first name and which town you're from - but we won't use your details for anything else.