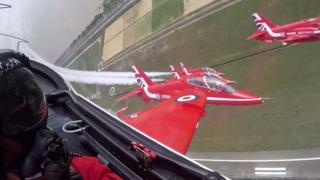 Watch the Red Arrows in action in China
The Red Arrows - the RAF's team of display pilots - are returning from their latest 60-day tour abroad.
The tour saw them perform a public display in China for the very first time in their history.
It was their biggest tour abroad in a decade, including visits to other countries including Singapore, Malaysia, Oman, Bahrain, the United Arab Emirates and Kuwait.
See how they got on...
(Video credit: Red Arrows)