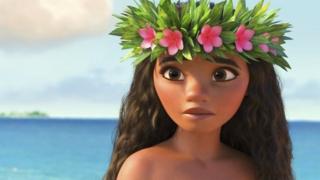 Moana actress: "I'm living my dream"
The animated movie Moana hits cinema screens this week, following the journey of a Polynesian teenager Moana on a quest across the Pacific Ocean to save her people.
Sixteen-year-old actress Auli'i Cravalho is the voice of Moana. It's her first film and she told Newsround: "I'm living my dream."
The cast also includes Dwayne "The Rock" Johnson and X Factor judge Nicole Scherzinger.
Leah went to meet Auli'i to find out what's it's like acting only using your voice...