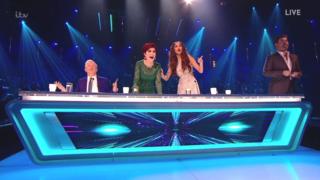 X Factor stage invasion following Honey G performance
The X Factor is known for it's drama, but Saturday night's show was even more dramatic than usual!
Some members of the audience rushed onto the stage just after Honey G had finished her first performance of the night.
Security were quick to act, and ITV have said five men were removed from the studio and were later spoken to by police.
The men are thought to be professional pranksters.
On Saturday night the remaining five acts each performed two songs, ahead of another elimination on Sunday evening.