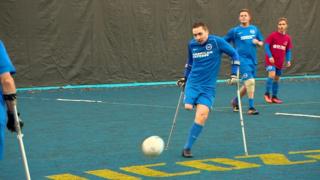 Disabled football campaign kicks off
A new project by the English Football League called 'Every Player Counts' has been launched at Wembley Stadium with the aim of getting 10,000 more disabled people playing football.
The scheme includes a wide range of disability football, including wheelchair football, football for visual impairment, learning difficulties, amputees and autism.
The project aims to give as many disabled people as possible access to football for the first time.
BBC Sport reporter Katie Gornall sent us this report.