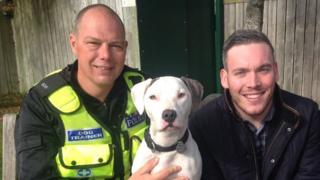 Staffies with a nose for fighting crime
Staffordshire Bull Terriers are at the top of the RSPCA's list of most abandoned animals.
But life could be looking up for some abandoned 'Staffies'.
The police force in Avon and Somerset, Gloucestershire and Wiltshire have been training some of these abandoned Staffordshire Bull Terriers as sniffer dogs.
The idea is they can help police find things like guns or illegal drugs with their powerful noses.
Martin travelled to Somerset to meet PC Lee Webb and his crime fighting partner, Kos.
Lee was the first handler in the country to train a Staffie-cross to sniff out illegal drugs and his latest recruit, another Staffie named Boris, is undergoing police pooch training to take over from Kos.
Watch Martin's report here!