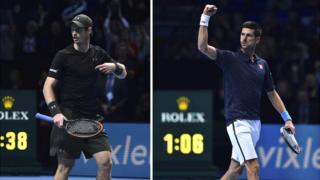 AFP/Getty
It's the ATP World Tour Finals this weekend and two tennis titans, Andy Murray and Novak Djokovic will be going head to head in the grand finale.
The UK's Andy Murray is the current world number one player, after he knocked rival Novak Djokovic off the top spot earlier this month.
This is the 35th time the two have played against each other, and there is a lot riding on the outcome of the match.
Djokovic has won the last four titles in London, and if he beats Murray he will become the world number one again.
He said: "We've known each other for so many years. This is maybe one of the biggest matches we will ever play, so let's enjoy it."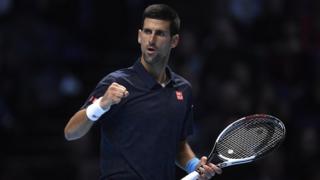 Reuters
However, UK champ Andy Murray is on a 23-match winning streak and is optimistic about the match: "I'll just give my best of what I've got. Hopefully it's enough."
Out of the 34 times they have played against each other, Djokovic has beaten Murray 24-10.
The match will take place at the O2 arena in London at 18:00 tonight.
But who is going to win....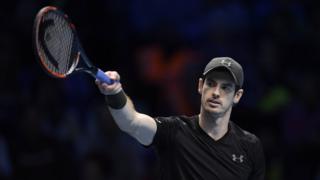 Reuters
Go team Murray!
Andy Murray is the current world number one tennis player and has had a very successful year.
He has won all of the last 23 matches he has played setting him on a brilliant winning streak.
Djokovic and Murray played against each other on Andy's birthday at the Italian Open finals earlier this year, and Andy beat him to win the title.
Murray also scored a gold medal for Great Britain in the Rio Olympics, and has already won four titles this year!
Can he beat Djokovic and defend his new world champion title?...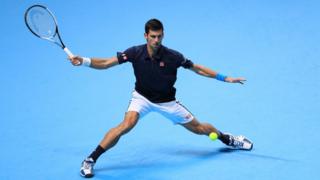 PA
Go team Djokovic!
Novak Djokovic has been called the 'greatest tennis player of all time' by some people and it's easy to see why.
Novak has held the world number one title since 2014, until Andy Murray knocked him off the top spot earlier this month.
The last time Djokovic played against Murray was in the French open, earlier this year, where he beat him to win his twelfth Grand Slam title.
He's dominated 2016 so far, winning six out of seven titles this year, and smashed a record which has stood since 1969, to become the first male singles tennis player to hold all four majors at the same time.
Could he knock Murray off the top spot to reclaim his place as world number one?