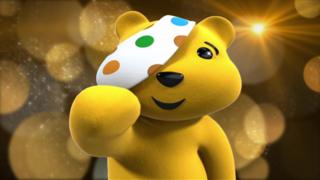 It was a record breaking Children in Need Appeal Show last night with a whopping £46.6 million raised.
Some of the biggest names in music and entertainment came together to raise money for projects that help children and young people.
Strictly fans got a TeamGB special and Craig David sang the official Children in Need single.
If you did something for CiN, get in touch and let us know!

Did you taking part with family, friends or school?

Maybe you're up to something wacky over the weekend?

Did you sell homemade cakes, dress up or go for a dance-athon?
Thanks for all your comments. This chat page is now closed.
You must ask your parent, teacher or guardian for permission before you send us a comment.
We may show your comment on our website or in our TV bulletins. We'll show your first name and which town you're from - but we won't use your details for anything else.
Your Comments
I abseiled down are school and it was 50 feet and I did it.
Maddie, 11, Devon
I raised £178.47 by doing 4 hours of non-stop swimming.
Amena, 12, London
I walked over 300 metres with a splint and crutches due to a knee dislocation as I am hyper-mobile.
Lauren, 10, Dorset
For Children In Need I sold cakes to our teachers and we had a mad hair day. We raised more than £100!
Rebecca,9
Everyone went to school in their pyjamas and put a donation in the pot.
Bethany, 9, West Sussex
I am dressing up and I gave £5 donation.
Leyla, 10, Manchester
We have been raising money for Children in Need wearing spots and playing playground games. We have raised £598 pounds!
Rhydypenau Primary School, Cardiff
Our school did lots of fundraising and we got to wear home clothes for £1 - we have raised over £600!
Grace, 11, Marlborough
I decided to bake cupcakes from scratch and sell them to raise money for Children in Need.
Mariam, 10, Buckinghamshire
I did a bun sale for Children in Need and raised £135.50 with my tutor.
Jacob, 11, England
I have been busy raising money at school and am looking forward to watching Children in Need. I designed my own spotty outfit too.
Amelia, 6, Preston
My friends Daisy and Gracie and I did a bake sale at school and we raised £119.30.
Shenelle, 10, Birmingham
We went stripy and spotty raising £88.53. The Headteacher even wore a fairy light halo for the day.
Dacre Braithwaite Primary
Me and my school had a bake sale, and also I gave £5 to Children in Need.
Maisie, 10, East Sussex
Our school raised a total of £373.01 by selling cakes and a having a mufty day.
Old Priory Junior Academy
My best friend and I dressed up as Blush and Pudsey today at school.
Jamila, 9, London
At my school I threw sponges at our deputy head teacher - 50p a throw - and I made my own Children in Need t-shirt.
Georgia, 8, Hampshire
I went to school dressed in spots and I gave in a pound. My teacher is calculating all the pounds that we gave in and I think we might have a lot of money.
Lexie, Herefordshire