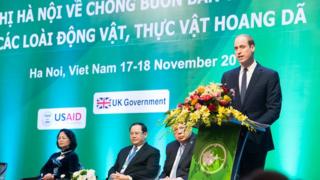 Prince William: We aren't moving fast enough to protect animals
Prince William has told a wildlife conference in Vietnam that the world needs to move quicker to protect animals that are coming under threat.
"Rhinos, elephants, pangolin, lions - they are all still being killed in horrifying numbers," he said.
He addressed in particular the fact that African elephant numbers have declined by 30% over the last seven years.
"While we've made progress, the truth is we're still falling behind," he said.