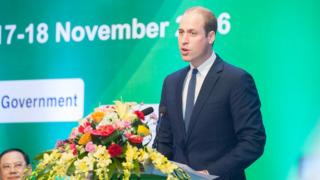 Prince William: Why are we still trading ivory?
Prince William has urged governments - including leaders in the UK - to do more to protect elephants from the ivory trade.
Currently, tens of thousands of elephants are killed by poachers every single year to steal and sell their tusks, which are made of ivory.
While there is international ban on buying and selling ivory to other countries, you are still allowed to buy and sell certain kinds of ivory within countries.
At the wildlife conference in Vietnam, Prince William said: "Ivory is not something to be desired and when removed from an elephant it is not beautiful."
"Why are we still trading it? We need governments to send a clear signal that trading in ivory is abhorrent."