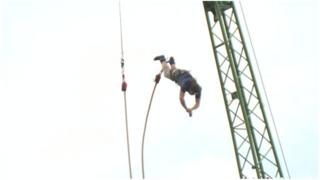 The Record Breaking Bungee Dunk!
Check out this bungee jump with a difference - Simon Berry from Sheffield jumped 75 meters to dunk his chocolate hobnob into a cup of tea.
He has entered the Guinness Book Of Records with the the highest bungee dunk, combining his passions for biscuits and bungees.
Simon said "It was pretty difficult - the team helped by getting me roughly in there in the right place."
"But going down and having to nail that cup of tea was pretty tricky."
"(It was) absolutely incredible - the feeling in my chest and seeing everyone's smiles, it was fantastic."