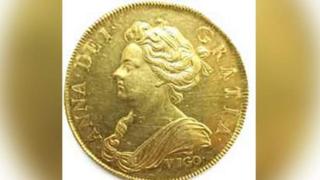 Boningtons
This coin is a super-rare Queen Anne 'Vigo' five guinea gold coin.
It was found in a child's toy treasure box and has sold for £225,000 at auction in Essex.
A man from Bishop's Stortford, Hertfordshire, was given the coin by his grandfather when he was little.
He said his grandfather travelled all over the world and "He gave me bags of coins to play with - I was into pirate treasure".
There were only twenty made from gold that was taken from Spanish treasure ships by the British in Vigo Bay, northern Spain, 314 years ago.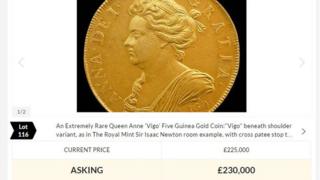 Boningtons
More recently, this man gave the coins to his son to play with in his own treasure box, before realising that the gold coin might be worth something.
After showing it to an expert, the coin was recognised as a Queen Anne 'Vigo' five guinea gold coin.
Time to see if there's any secret pirate coins tucked away in your toy treasure boxes!