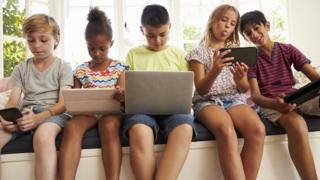 Thinkstock
Children are spending more time online than they spend watching TV.
That's according to a new report by OFCOM - the organisation that keeps a check on how services like the internet, TV and radio are run.
It interviews thousands of children and and families, over several years, to see how habits change.
Five to 15 year olds
Weekly time spent online: 15 hours
Weekly time spent watching a TV set: 13 hours 36 minutes
It also looks at how younger and older age groups do things differently.
It found under-12s still spend more time watching TV than going online, but 12-15 year olds definitely spend more time online than in front of the TV.
You Tube is the most popular website for many children, but what you watch on it is different depending on how old you are.
Older kids say they like to watch vloggers like Zoella, but under-sevens say they are most likely to watch TV shows, cartoons and mini-movies online.