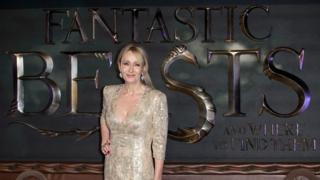 JK Rowling: 'It's all about the characters'
The stars were out for the European premier of new film, Fantastic Beasts And Where To Find Them.
Newsround caught up with the film's writer, JK Rowling, to find out what fans can expect from the new film.
It's set in New York, with actor Eddie Redmayn playing Newt Scamander whose magical suitcase is lost and then opened.
That allows Newt's "fantastic beasts" to escape, spelling trouble for both the wizarding and non-magical worlds.
Take a look at what JK Rowling told Ayshah.....