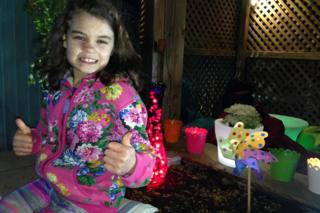 Seven-year-old Olivia has a very rare medical condition that means she is 'allergic' to the sun.
Her skin is super sensitive to the sun's rays and if she goes outside during the daytime it can cause lots of problems, including severe sunburn.
Olivia's condition is called xeroderma pigmentosum.
It means she can't go outside and play in the garden where she lives in Nottinghamshire.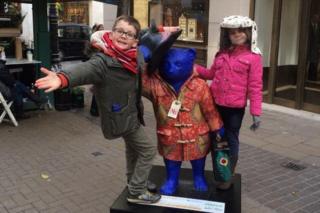 Family
The only truly safe time for Olivia to be outside is when it is dark.
So friends, family and teachers decided to make a garden for Olivia where she can play at night without having to cover up.
They raised £1,500 for a special 'night garden' just for Olivia. Her parents say it has changed her life.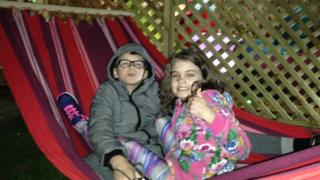 Olivia's favourite bit of the garden is the hammock where the family enjoy stargazing.
"We come out most nights because it's really bright and we can get the blankets and it's snuggly. I love it," she said.
Her mum, Jodie, said: "The fact that she can come out without a mask on, without her shoes on, has made such a change it's unbelievable."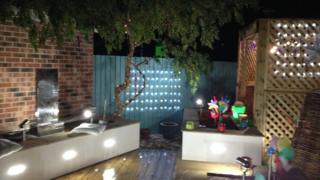 The money raised has also been used to fit special filters on the windows of Olivia's school to stop the UV rays coming through the windows.
One of Olivia's teachers raised £600 by running the New York City Marathon and a special concert also raised more than £1,000.