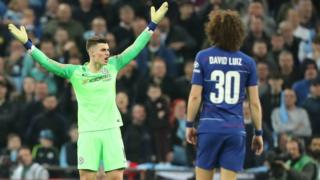 Getty Images
With a few minutes left of the Carabao Cup final, Chelsea manager Maurizio Sarri decided to swap goalkeeper Kepa Arrizabalaga, for Willy Caballero - who is a penalty shoot out specialist.
Kepa refused to leave the pitch, even after Sarri shouted to him to come off. Kepa screamed back "NO!" at his manager, all of this was animated with some serious arm waving.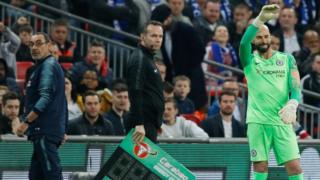 Getty Images
Sarri stormed down the tunnel before reappearing and letting Arrizabalaga stay on the pitch.
Arrizabalaga stayed on for the penalty shootout and Chelsea eventually lost to Manchester City 4-3 on penalties.
It's not the first time we've seen people lose their cool in the world of sport. Here are Newsround's top ten sporting tantrums...
1. Footballer Cristiano Ronaldo gets angry during 2016 Euros
The Real Madrid football star is well-known for his diva-like behaviour and regular strops.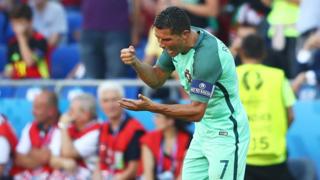 Getty Images
Most recently in the 2018 World Cup Ronaldo was given a yellow card for shouting in the face of Cesar Arturo Ramos after his teammate Ricardo Quaresma was denied a free kick. The 2-1 defeat to Uruguay ended Portugal's World Cup dreams.
He had his most epic meltdown during the 2016 Euros. In the run-up to the Hungary match - he snatched a reporter's microphone and threw it into a nearby river and when Hungary took a 3-2 lead against his Portuguese side, Ronaldo threw one almighty tantrum.
Hungary and Portugal went on to draw the game 3-3 and Portugal ended up winning the tournament He just needed to be patient!
2. Weightlifter Boady Santevy's tantrum is caught on camera, 2018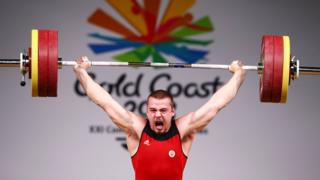 Getty/Mark Kolbe
Canadian Boady Santavy put on a record-breaking performance at the Commonwealth Games in April.2018. But defending champion Steven Kari of Papua New Guinea went one better and got the gold.
Boady's reaction to missing out on the top prize was captured on cameras and the Canadian can be seen kicking out in rage at his gear, as the cheers and celebrations continue for Kari in the background.
3. Novak Djokovic destroys a tennis racket, 2018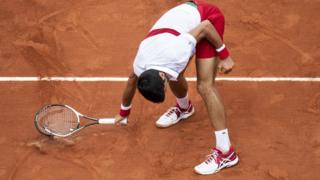 GETTY/ Fred Lee
In the French Open 2018, tennis player Novak Djokovic missed an opportunity to move onto set point and took it out on his racket. He completely destroyed it by hitting it on the ground three times.
He said: "In these kind of circumstances, sometimes emotions get the worst out of you, you know, or the best out of you, whatever you want to call it."
4. Footballer Zinedine Zidane head-butts another player, 2006
One of the most shocking moments in football history came during the World Cup final of 2006.
French captain Zinedine Zidane was sent off for head-butting one of the other team's players Marco Materazzi.
It was reported he did this because he was reacting to something nasty that Materazzi had said.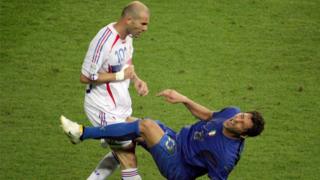 Getty Images
France went on to lose the match and it has become one of the main incidents that the footballing legend Zidane is remembered for, as it was his final World Cup.
The incident has even been turned into a statue!
5. Karolína Pliskova damages tennis umpire's chair, 2018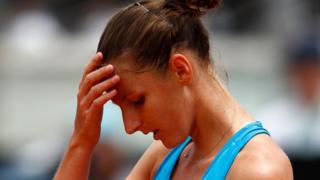 Getty/Julian Finney
Former world No.1 Karolína Pliskova was so angry with the umpire when she lost to Maria Sakkari during the Italian Open in Rome that she hit her racket on the umpire's chair three times leaving a hole.
6. Jose Mourinho walks out of press conference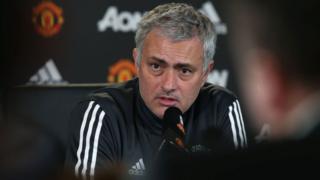 Getty Images
Jose Mourinho was Manchester United Manager and after losing 3-0 to Tottenham, Mourinho ended his post-match news conference by walking out.
It was his heaviest defeat at home in his career and after the game he said to journalists "I won more Premierships alone than the other 19 managers together."
He continued "Respect, respect, respect man." before walking out of the news conference.
7. Golfer Sergio Garcia loses his cool and his club, 2018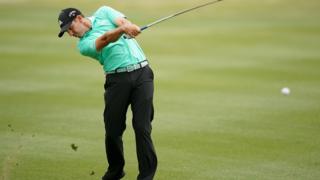 Getty/Darren Carroll
When Sergio Garcia was doing badly at the Valero Texas Open in April 2018 that he hurled his club into the bushes.
He then had to go into the bushes to find the club - perhaps he should've thought of that before he chucked it in!
8. Tennis player John McEnroe has epic meltdown, 1981
This is one of the most memorable times a player has lost their cool in the history of sport.
In his Wimbledon first-round match against Tom Gullikson, McEnroe's serve was called out.
McEnroe clearly didn't think this was the right decision. He was furious at the umpire and was seen shouting: "You cannot be serious!"
He went on to win the tournament though, so it wasn't all bad.
9. F1 driver Sebastian Vettel uses some bad language, 2016
At the Mexican Grand Prix this year, Sebastian Vettel was heard being extremely rude and using swear words to race director Charlie Whiting over his team radio.
He was angry about the way another driver Max Verstappen was racing.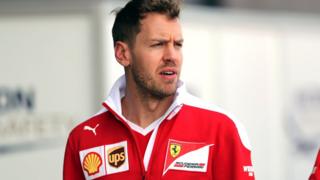 PA
Fortunately for him, he was not punished for his angry rant - although was told that if he behaved like that again then he would be!
10. Footballer Paulo Di Canio goes too far, 1998
Back when he was playing for Sheffield Wednesday against Arsenal in 1998, Italian footballer Paulo Di Canio took his temper out on the referee Paul Alcock, by shoving him to the ground.
After the incident, the referee said: "I couldn't believe what had taken place. It is totally unacceptable."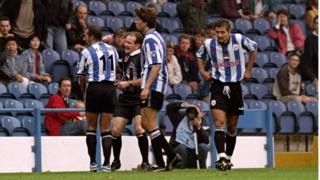 Getty Allsport
Di Canio was swiftly sent off, suspended by the club and jumped on a plane to Italy to have a long, hard think about what he'd done. He ended up banned for 11 matches and ordered to pay a £10,000 fine.
He went on to become a football manager and in 2013, when managing Sunderland, he was sent to the stands after arguing with the referee Martin Atkinson about alleged Arsenal time-wasting.