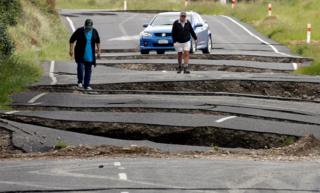 Reuters
New Zealand has been hit by two strong earthquakes in the last 24 hours.
The first quake struck the country's South Island just after midnight on Monday (11:02 GMT Sunday), killing at least two people.
A tsunami, trigged by the quake, hit around two hours later. Officials warned everyone along the eastern coast to head inland or for higher ground.
The second tremor struck at 13:45 Monday (00:45 GMT).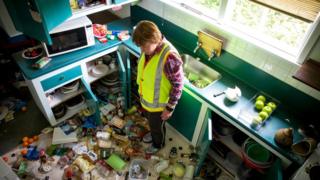 AP
There have been hundreds of strong aftershocks, causing power cuts and cutting off water supplies.
Rescue services are helping in the areas that have been affected.
A resident of Christchurch, near to where the quake struck, said the tremor lasted a "long" time.
"We were asleep and woken to the house shaking, it kept going and going and felt like it was going to build up," she told AFP news agency.
New Zealand is used to earthquakes. The country sits on the notorious Ring of Fire, a very active part of the Earth, with frequent quakes and volcanic eruptions caused by the movement of huge tectonic plates deep under the earth.