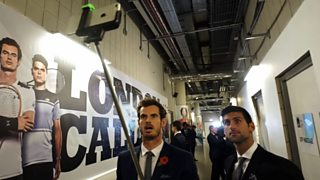 Murray & Djokovic do mannequin challenge
The world's top eight male tennis stars are in London this week for the ATP World Tour finals, so what better way to warm up than with a challenge.
They've taken on the 'mannequin challenge' together, trying to stay still.
The latest craze is seeing people take videos of themselves standing completely still - like mannequins in a shop window.
Novak Djokovic starts Sunday's play against Dominic Thiem from 2pm on BBC Two.
Pictures courtesy of ATP World Tour.