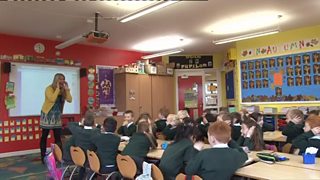 'Quietttt!!!' Hear the 'world's loudest shout'
Pupils at a school in Belfast had their classroom shaken by a sound louder than a rock concert this week.
What was the sound? No other than their teacher, who just happens to have the world's loudest shout.
Miss Flanagan entered the record books back in 1994 with a thunderous rendition of 'quiet!'
The shout clocked up an earth-shattering 121.7 decibels, setting a world record.
Luckily for her pupils, Miss Flanagan says she never uses her secret weapon in class.
"I'm really not a shouter," she said.
"Also, after the first couple of weeks of teaching you can't be shouting all year. I'm hoarse all the time as it is."
Miss Flanagan discovered her record breaking shout at a summer camp that was holding a record breaking day.