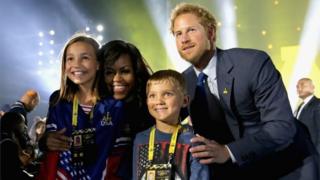 Getty Images
Prince Harry has announced that Sydney in Australia will host the Invictus Games for injured armed forces veterans in 2018.
He confirmed the news in a video message featuring Aussie pop star Kylie Minogue.
The games are a Paralympic-style event, with 500 competitors from 17 nations taking part in sports ranging from archery and wheelchair rugby to road cycling and swimming.
The Invictus Games started in London in 2014 and took place in Florida this year. Toronto in Canada is set to host in 2017.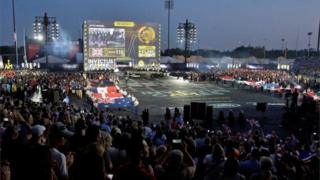 AP
Prince Harry, who is patron of the Invictus Games Foundation which organises the event, said Sydney was chosen because it is an iconic location with a proud military heritage and a population that is "absolutely sports mad".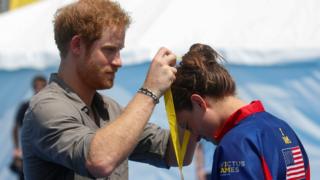 Reuters
The announcement video shows Harry's phone ringing to Kylie Minogue's song I Should Be So Lucky.
The prince answers the phone saying: "Hi Kylie, good timing, the 2018 Invictus Games is coming to Sydney, can I guarantee the Aussies are going to bring it?"
Kylie then replies: "Hey Prince Harry, listen - we're stoked the Invictus Games is coming to Sydney, but you don't need to tell the Aussies to bring it - it's guaranteed, no worries."
Invictus is Latin and means "undefeated" or "unconquered".