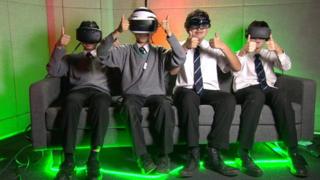 What's the best VR Headset?
Virtual reality or VR headsets are one of the biggest tech trends of the year, and could soon be part of our daily lives.
The first VR headsets were released earlier this year, and have already been selling in their thousands.
The PS VR even outsold the Playstation 4 console during its first week of release in Japan.
So, we asked four tech fans to put some of the best VR headsets through their paces, and find out what they think...
Game footage courtesy of...
PS VR: Robots Rescue, Playroom VR, Japan Studio Sony
HTC VIVE: TiltBrush - by Google
Oculus Rift: Lucky's Tale - Playful Corp
Microsoft HoloLens: RoboRaid - Microsoft