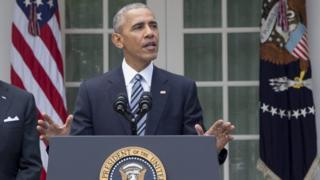 EPA
The new president-elect of the US, Donald Trump, will visit President Obama at the White House today.
They'll be sorting out how Team Trump will take over power in January.
It could be an awkward meeting, because the two men have often criticised each other in the past.
Donald Trump won the US election to become the new president, beating his opponent Hillary Clinton.
But lots of people were unhappy with the result, and there were protests overnight in some American cities.