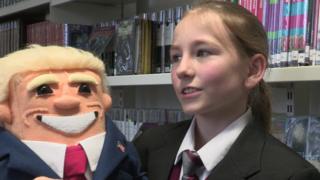 After a long campaign, Donald Trump has been declared victorious in the US election and will become the next president of the United States.
He is set to take over from Barack Obama in January 2017.
Trump has been a controversial candidate and his opinions have divided lots of people in America.
Kids in the US have told Newsround how they're feeling after his surprise victory.
Trump beat rival Hillary Clinton to the top spot and will be the 45th president of the United States.
Many people say that the US president is the most powerful person on the planet.
We asked some UK kids what their message to Donald Trump would be...